Phil's talking about the school that his daughter is about to start.
"It's equidistant between our house and where we keep the girls' horse"
"Equine distant" I say.
At that point I should have just dropped the mic and left, only we're travelling at 50mph up the Woodhead Pass and visibility is down to about 10 metres. It'd be impactful, but far too big a risk to jump out of the van right now.
We're on our way in the fun bus to the Barnsley Road Club Road Race, to give it it's official title. I think it's only fair to give it its full title as it's printed in the official programme. I've done some races where they don't even send you a start list, and yet every year Barnsley Road Club produce a full colour programme, on lovely thick paper. It's 12 pages. Front and back. The stress of all this must be shortening several lives but I'm grateful nonetheless.
All the racers got an email before the race saying that it was looking like being a great day, with perfect weather for cycling. On Sunday morning, on our side of the Pennines, it's misty, damp, and with a strong wind blowing. Another nail in the coffin for these so called 'experts' that we keep hearing about.
Over into the Yorkshire side of the hills and visibility has increased marginally, but it's cold and covered in a sea mist. Impressive as we're about 100 miles from the coast. This race is on a circuit that involves a long climb and a long descent, repeated 12 times. It's brutal. If you want to imagine what it looks like do a child like drawing of the sea on a really choppy day. You're already pretty high up when the climb starts, so the weather conditions on the top here can be pretty gruesome. When we arrive there on the first lap we'll find a ripping crosswind and some uncommitted rain, that seems to have no confidence in what it's doing.
I should rewind a bit to when we're getting ready in Phil's van. The Buxton CC team have arrived prepared and ready to race as usual. By that I mean Phil has remembered to bring some toilet roll but forgot to pack a jersey with a working zip. Actually he's packed a jersey that has no zip. We've just finished using all of Barnsley RC's remaining pins to seal him into his kit when he's having to undo all the hard work and go for his inevitable last minute shit.
Once more Phil is pinned into his race wear, looking at best like he's borrowed his kit off Vivienne Westwood, at worse like he is a cyclist that Dr Frankenstein built out of the parts of other riders. If things are going badly we've decided that I should shout "DEPLOY!" at which point Phil will rip open his jersey, loosing the pins all over the road and laying waste to half of the peloton.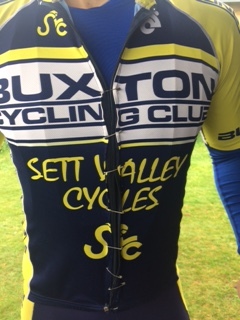 On a turning up well prepared tip, Dave from Chorlton Velo has turned up without his helmet. He's now going to have to borrow his wife's. Unfortunately she'd planned on going for a spin whilst wearing it, but now she'll just have to stand in the rain and watch a bike race. All of our wives are very lucky ladies.
My wife's here too. Sizzo is once again acting as my soigneur. Today she's going to attempt being on bottle duty for the first time. We practice passing bottles whilst I'm on the turbo warming up. I've set it up way too close to Phil's van meaning that our simulation involves her standing right in front of me. I'm only half convinced that she's not going to attempt it this way during the race, and will bring down the entire bunch.
Whilst I'm warming up the race photographer starts chatting to me and taking pictures. "Where you from?" he asks. I am painfully aware that my kit says Buxton CC on it 18 times, but I still miss the joke. Even worse it's my bloody joke. The photographer talks to me whilst snapping away, trying to make my face do something interesting, like when the school photographer used to call you "cheeky chops" in order to make you smile. This guy's trying to stop me from smiling. He asks me to look serious so I pull my best blue steel, at which point Sizzo has to go and hide behind the van to stop from pissing herself. Incidentally she will not attempt any bottle passes during the race, instead she'll appear fleetingly by the road side and then go and have a tea with Carla, Dave's wife. You cannot get the staff these days.
The race is a war of attrition. Every time up the hill the bunch is thinned out, with riders going out the back. Unfortunately, before we come down the hill we head into a block headwind that pushes against us all the way down the descent, and into the drag before we turn back on ourselves and start climbing again. This means that we shell riders out the back, only for a few of them to make it back into the bunch each time that we hit the wind again.
The fourth time up the hill and the hammer properly goes down. When we've regrouped to come back down, at least half the bunch seem to have been shelled out the back. This whittling down process continues until at one point there are maybe 10 of us left. After getting rinsed in the sprint on Thursday night, I don't want any of the fast finishers coming to the line with us. I try and organise our group into riding through and off in order to stop anyone getting back on, but everyone is keeping their powder dry and relying on the climb to do its job once again.
The group swells and then diminishes for lap after lap. On the penultimate time up the climb I put in an attack about two thirds of the way up to try and shake out any riders who are feeling the pain. I don't go too deep but when I'm brought back it allows for a counter attack of two riders to jump away. We'll bring one of them back, but the other is strong enough to stay away and take the win by about 30 seconds. Having the hare up the road finally gets us working through and off. I think there are about 9 of us left, so we should all get a good placing.
I'm in 6th or 7th wheel when an attack goes from towards the front. The rider I'm following has not quite hit the wall but he's within touching distance of it and so I have to come around him to try and close the gap. By now there are gaps between all of the riders left in the group and it's all about who can bury themselves up the remainder of the climb, and cross the line first.
I take 6th and as I cross the line I lap my teammate. "Phil! DEPLOY!" I shout.
This is one of the best organised races on the calendar, and it also has one of the best prize pots. There is cash on the line for the first 10 riders, plus the top junior, as well as three primes. Because of that a much bigger crowd than usual sticks around for the presentation ceremony at the end. Despite not knowingly having contested it, I manage to bag the prime for the 8th lap which means an extra £25 on top of the £20 I've won for finishing 6th. As I step up to get my prize I shake hands with the wrong man and get mocked on the mic. Still I've come away with more than enough cash to make it rain, so it's all fine.
Thanks again to Barnsley Road Club for putting on one of the events of the year. Also thanks to my sponsor 23mm for giving me ace wheels to race on. If you fancy a new set of hoops then get in touch with Mike and tell him I sent you.